When I became pregnant the DockATot Deluxe was one of the first things I began doing research on and adding to my baby registry. I talked about it here (must have newborn items) I would stroll/waddle around Buy Buy Baby for as long as I could walk to just to look at baby stuff. Not only did I stroll through the isle of Buy Buy Baby, but Target as well and constantly online searching.
Halfway through my pregnancy, I received my DockATot Deluxe compliments of the brand, I love this product but so glad that IV loves it even more. It makes things easy for me when at home moving from different rooms in the house and also when I travel. I will be sharing why I love my DockATot and some great things about it.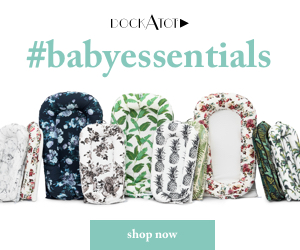 What's A DockATot
The DockATot is a multi-functional lounger, co-sleeper and playtime lounger. We use this for all aspects of our day to day life with IV, co-sleeping is one of the main reasons I love it. We are still in the process of getting IV to sleep in his crib. He typically sleeps in the crib for nap times during the day and some nights he sleeps there but when he sleeps in our bed we like to use the DockATot. The DockATot is all natural and 100% cotton and handmade in Europe. I love that the DockATot comes in two sizes, currently we are using Deluxe which is for 0-8 months. The next step from this is the DockATot Grande which is for 9-36 months.
This is the DockATot that I have, I went with the basic white color. The cover comes off and is machine washable, I always wash IV's covers in the dreft detergent because I love the baby smell everywhere haha.
Using the DockATot for Travel
I just came back from Louisiana (travel guide to come) and the DockATot was such a hit. IV was able to safely play, sleep and even do a little tummy time while we were away from home, all of my family was so impressed and never saw this before. I would highly recommend taking the DockATot with you as essential for travelling. Jimmie and I will be going to San Antonio in two weeks and this time we will be staying in a hotel so I will definitely be bringing this along.
Giveaway
If you made it this far I have something special I am giving away. I will be giving away 1 lucky winner $100 towards their DockATot purchase, this is HUGE! Whether you are mom-to-be, dad-to-be or know someone that is expecting this is the best time to purchase this essential item for a newborn! Here are the rules:

Follow me: Instagram @jerrieallumar, Facebook @simplysmallblog
Follow @DockATot on Instagram
That's it super easy, the giveaway will end on Monday, June 17th, the winner will be announced June 20th.